As part of the Transpennine Route Upgrade (TRU) railway infrastructure improvement program in Northern England, the Batley station required a compound/haul road to service site cabins, heavy rail plant and access to the Road Rail Access Point (RRAP).
The challenges on the site included, weak ground conditions with low bearing capacity in addition to accommodating existing services and ensuring the additional load from the compound did not affect the integrity of an underpass which was situated directly beneath the site.
Amey, an Alliance Partner of TRU, sought to provide a cost-efficient and sustainable ground improvement solution that offered significant value compared to a traditional design. The
solution was a Hybrid design including Neoloy Tough-Cells 330-150-C and Combigrid 40/40 Q1 Geogrid which was all supplied by SIG.
Conventional Solutions
Traditional ground improvement methods required large, deep concrete foundations for site cabins as well as thick layers of high-quality aggregate under the compound and road layers. In addition to the time, logistics and cost of concrete and large quantities of aggregate, this solution would have required subgrade replacement and regular maintenance.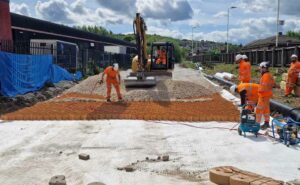 Neoloy® Tough Cells Solution
Neoloy Tough Cells' unique performance properties – validated by field testing and supported by international ISO, ASTM and other cellular confinement system standards:
High (elastic) stiffness (>525 MPa @60°C)
Low permanent deformation (<3% at 75 years)  High tensile strength (>19 kN/m perforated)
Collaboration between Amey, PRS and SIG, ensured the process of design and installation met all the project requirements "with the full width of the road to work with. This, combined with how the system came together meant it was easy to lay down." There was also no need to dig out any existing services or soil excavation… "we didn't need to remove any existing pipework or cables.
The load could be spread over the top without any risk of damage to underlying services." (Max Ragdale, AMEY) The Neoloy sections were laid over a Composite Goegrid (Naue Combigrid 40/40 Q1). Infill was aggregate type 1 material, compacted to verified density.